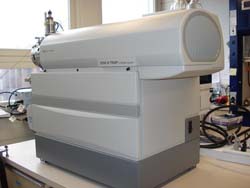 The 3200 Q TRAP® LC/MS/MS system provides excellent sensitivity, superior dynamic range, and reliability across a range of identification and quantitation applications.
Patented hybrid triple quadrupole/Linear Ion Trap technology takes you farther than conventional ion traps and enables you to screen, identify, and quantitate in a single analysis.
Easily interchangeable ion sources are available so you can perform a wide range of applications.
This compact, easy to use system is rugged enough for continuous operation so you increase your productivity.
Move Beyond Conventional Ion Traps
Hybrid triple quadrupole/Linear Ion Trap technology provides increased sensitivity and enables you to move from screening to identification to quantitation in a single analysis. By combining triple quadrupole scanning functionality with sensitive linear ion trap scans, you can reduce analysis time and get more information from every experiment.
Versatile, Integrated System
The 3200 Q TRAP system meets multiple challenges because it is a powerful, easy to use, compact benchtop system that is rugged enough to allow for continuous high throughput operation. With intuitive, application-specific software and automation features it's easy to see why the 3200 Q TRAP system fits perfectly into the workflows of any drug discovery, proteomics, or forensics laboratory.
Simultaneous Qualitative and Quantitative Analysis
The hybrid quadrupole/Linear Ion Trap technology of the 3200 Q TRAP system provides you with the ability to identify and quantitate components from complex samples in a single run. Triple quadrupole specificity and quantitation combine with ion trap full scan MS/MS sensitivity for simultaneous qualitative and quantitative results.